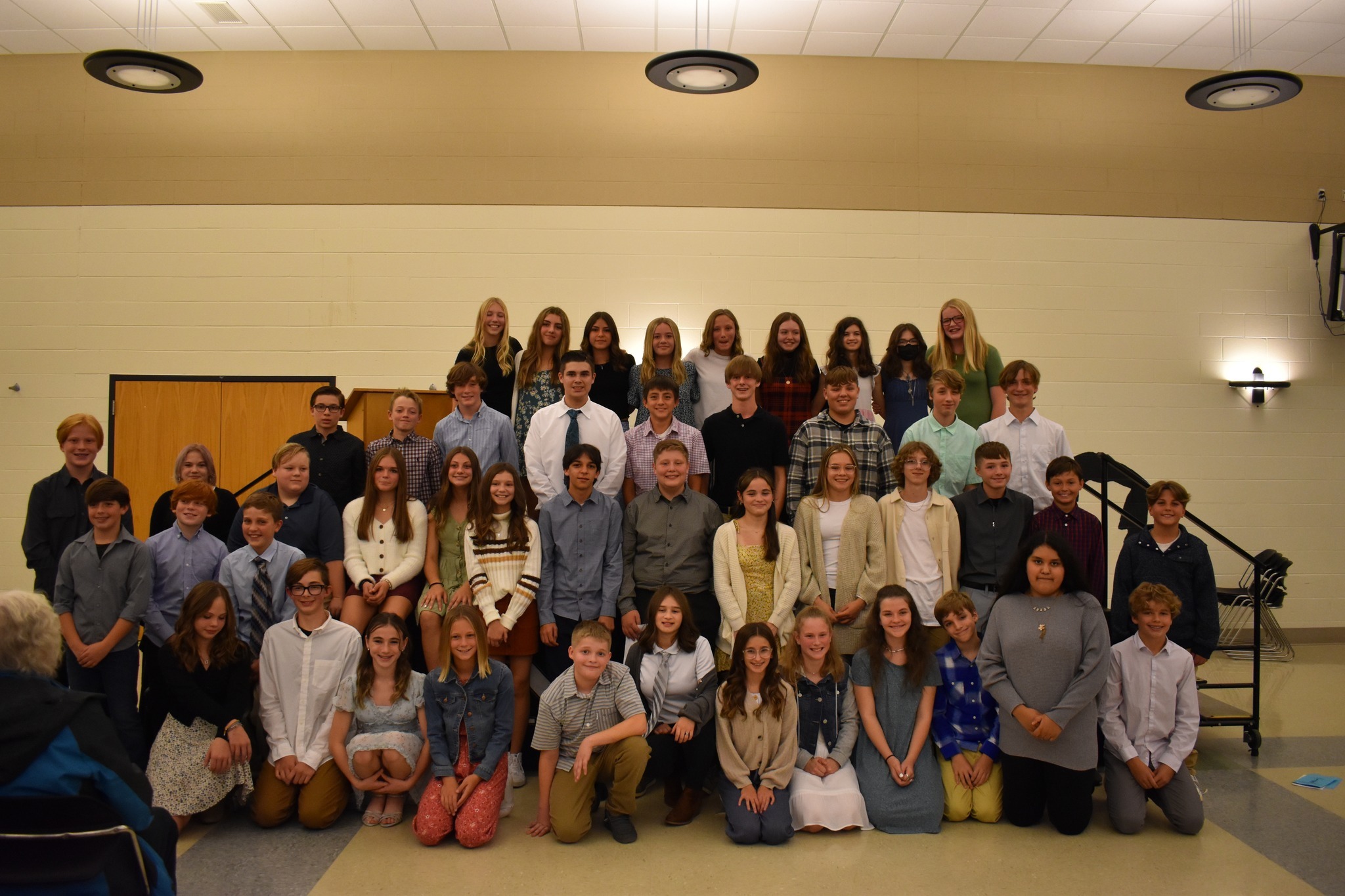 National Jr. Honor Society
National Jr. Honor Society Eligibility Requirements
Students in grades 6–9 who meet the requirements for membership outlined by their school's chapter are eligible to be invited for membership.
Students must be in their second semester of sixth grade for consideration. NMS selects students in the fall of their 7th and 8th grade year. Ninth grade students are only eligible for inclusion in NJHS if they attend a middle level school. Ninth grade students in a traditional 9-12 high school are not eligible for NJHS membership.
Each chapters qualifications for membership are based on the five pillars of NJHS:
Scholarship
Per national guidelines, at a minimum, students must have a cumulative GPA of 85, B, 3.0 on a 4.0 scale, or equivalent standard of excellence. (Each school chapter is allowed to require a higher cumulative GPA.)
Service
This involves voluntary contributions made by a student to the school or community, done without compensation.
Leadership
Student leaders are those who are resourceful, good problem solvers, and idea contributors. Leadership experiences can be drawn from school or community activities while working with or for others.
Character
The student of good character is cooperative; demonstrates high standards of honesty and reliability; shows courtesy, concern, and respect for others; and generally maintains a clean disciplinary record.
Citizenship
The student who demonstrates citizenship understands the importance of civic engagement; has a high regard for freedom and justice; respects the U.S. form of government; respects the law for all citizens at the local, state, and federal levels; and demonstrates mature participation and responsibility in activities such as scouting, community organizations, or school clubs.
Students who meet the scholarship requirement and have been recommended by their teachers will have an opportunity to complete a form detailing their accomplishments in and commitment to service, leadership, character, and citizenship. Forms are expected to be completed by the student and must be turned in by the deadline given by the adviser to even be considered.
An NJHS committee within the school building composed of teachers and administrators will review applicant forms, individually score them and collaborate to make final decisions on new members based on scores and discussion amongst the committee. All membership decisions are based on the 5 pillars of NJHS.
Students who were not accepted will receive a letter of notification and encouragement for the next year. Students who are accepted will receive a congratulations letter and invitation to the NJHS induction ceremony.
Understanding the Obligations of Membership
Students who accept membership and are inducted into the chapter should be aware of the time and commitment involved with this honor. For example, there will be chapter meetings. The chapter bylaws should articulate the yearly meeting schedule and member attendance obligations. Members also must participate in chapter and individual service projects to benefit the school and community.
1ST YEAR MEMBERS, Inducted Fall 2022

7th Grade: Natalie Bischoff, River Borkowski, Kylie Corrigan, Zaydrie Eaton, Lincoln Echtinaw, Aleigha Gross, Marline Guzman Gavina, Raven Harriman, Kaylee Hutchinson, Addison Johnson, Isaiah King-Smith, Mathias Kortman, Melissa Mendez, Jack Mercer, Elijah Ream, Levi Sparks, PJ Stephens, Noah Voshel, Miles Wormmeester, Brooklyn Zaleski
8th Grade: Caleb Acheson, Morgan Andres, Gabby Arney, Brayden Carlson, Gage Gerencer, Olivia Hether, Emma Hoersten, Tyson Holden, Olivia Jenerou, Elia Miedema, John Schultz, Gage Scott, Dalton Seidletz, Aiven Warmbein
2ND YEAR MEMBERS, Inducted Fall 2021: Konner Bisel, David Castrejon, Laura Castrejon, Alyssa Echtinaw, Emma Escalante, Cade Gerke, Easton Harkness, Ruby Hughes, Ellen Nelson, Alexis Newfer, Hope Pietrzak, Camden Reyburn, Nathan Ruehmeier, Cooper Sipperly, Ella Soules, Zackery Yearsovich