NEWAYGO COUNTY AREA PROMISE ZONE
Here at NPS, we are excited about the prospects of the Newaygo County Promise Zone to help our students gain access to education after high school.
Our students have multiple opportunities to earn college credit while attending the K-12 NPS school system. Click link below to see all the opportunities our students have.

Continuum of College and Career Access Opportunities
Promise Zone Information. Click link below for a one-page fact sheet.

Promise Zone Information Sheet
Presentation About the Promise Zone. Click link for Powerpoint presentation.

Promise Zone Overview - What does it mean - Powerpoint


Newaygo County Area Promise Zone Webpage


Promise Zone Press Release January, 2017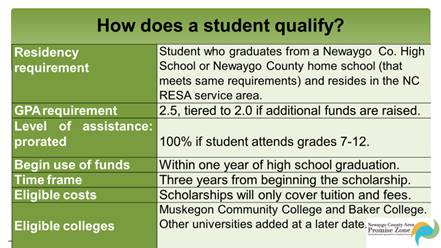 State Promise Zone webpage
Donations Accepted for Newaygo County Area Promise Zone
Want to contribute to the funds established for the Newaygo County Area Promise Zone?

Pledge Form